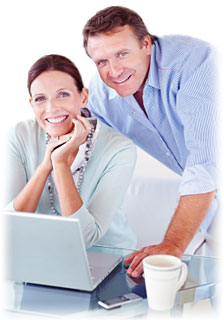 Our Services
A personalized investment plan, designed for your needs.
This will be a simple, straightforward game plan, with enough complexity to meet your needs, and no more. It will have flexibility to change as your life changes, and we will update it periodically when we review your portfolio. The plan will usually include:
A description of your investment goals, and the amount of risk you can take

Asset allocation (the percent you should have in stocks, bonds, and cash)

Diversification guidelines (across large, mid, and small cap stocks; U.S. vs. international; growth and value; and other categories)

Selection of ETFs (exchange traded index funds) or index mutual funds

Inclusion of municipal bonds for tax-advantaged investing

If necessary, a transition plan for your current portfolio

Ongoing oversight and management of your accounts.
After you agree that the investment plan suits your needs, Bob Garey will implement the plan and begin managing your portfolio. Bob will monitor your overall progress, as well as your asset allocation and the holdings in your accounts, on a continuous basis. He will make changes in the ETFs or other holdings in your accounts when he believes they are necessary based on changing market conditions. We will prepare a comprehensive performance report for you each quarter, and also whenever we meet with you to review your accounts. (This is in addition to the monthly account statements from your custodian.) In short, we will pay close attention to your accounts, and we will keep you well informed.
IRA rollovers, traditional IRAs, Roth IRAs, and inherited IRAs.
Your IRA assets may be the most important part of your retirement nest egg. We will recommend an appropriate investment plan for yours, and along with your CPA, advise on when you should take distributions (withdrawals).
College savings.
We'll help you decide whether setting up a 529 savings plan or college prepaid plan (or both) is best for you—and we'll help you do it very inexpensively. We'll also advise you on whether UTMA / UGMA custodial accounts are beneficial for your family's situation.